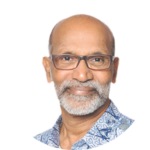 Rev. Benedict Rajan
February 3, 2019
Hold Fast To The Confession Of Your Faith
Text: Hebrews 10: 19-23
God through His blood gives us confidence to enter into His presence.
The verses are a pointer to our breakthrough.
Let us hold fast the confession of our hope/faith without wavering. Holding fast is key to seeing the promises of God come to pass.
An illustration of this in Deuteronomy when Joshua took over from Moses. Moses was taken by to Mount Nebo and was shown the promise land which he could not enter. At 120 years of age, Moses dies.
Joshua got a shock and was startled by this. 30 days of mourning came and after the mourning, Joshua was still dumbfounded by the loss of Moses.
Often the first thing that happens when overwhelmed with life circumstances is the devil will steal our speech and praise.
God commanded Joshua to be strong and courageous but Joshua would not move. Then God told him to hold fast to the confession of faith. Heaven broke forth for Joshua and he moved. The miracle God wanted to do in his life was in his mouth. (Joshua 1: 8-10)
Purpose of the message:
The atmosphere of your life does not change with your meditation of your heart. They change with the confession of your mouth.
Before you can believe it, say the Word of God and promises of God out loud. This breaks the power of darkness. You confess what you get. Complaining and negativity declared breed darkness. Confession of life come through the Word.
Death or life are in our confessions
(Matthew 12:37, Proverbs 18:21)
Confession of failure, doubt, unbelief, fear can delay our promises from coming to pass. Faith declarations makes impossible possible. It's not impossible with the promises.
Your season of prayer is over, now is the season of speaking. (Matthew 17:20) When you speak the promises of God, the heavens roar. (Matthew 16:19)
Your confession of your mouth plunders hell. It's impossible for you but it's possible with God.
For example, with a financial situation, stop worrying and declare the promises of God. (Hebrews 4:12)
Confession of the Word generates the Holy Spirit power to breakthrough all circumstances.
Speak to the mountain, don't be silent.
When you speak in Jesus name, a spiritual event takes places.
7 Dynamic Cornerstones of the Confession of Your Miracle
The Confession of:
1. The Miracle of Completion (Philippians 1:6)
2. The Miracle of God's Faithfulness (2 Tim 1:12)
3. The Miracle of Financial Breakthrough (Philippians 4:19, 2 Corinthians 8:9)
4. The Miracle of Restoration (Rom 8:28, 1 Cor 2:9)
5. The Miracle of a Faith Breakthrough (Mark 11:24)
6. The Miracle of God's Abundant Grace (2 Cor 9:8)
7. The Miracle of Healing and Health Breakthrough (3 John 2, Isa 53:5)
The Word of God has enough faith to work on our behalf.