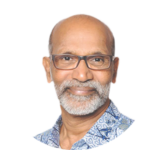 Rev. Benedict Rajan
September 22, 2019
Quench All The Fiery Darts of the Wicked One
Text: Ephesians 6: 16-18
We need to take the shield of faith to quench the fiery darts of the enemy; the torment and anxiety the enemy will bring.
We take up the shield of faith by confession of the Word and declaration of our hope in God
The fiery darts of the enemy have no power against the shield of faith. The main purpose of the enemy is to stop us from fulfilling the plan and call of God on our lives. These fiery darts are sometimes tailor made to our weaknesses.
One of the primary fiery darts is unbelief. We want to declare war on unbelief. This must be intentional.
On three occasions, Jesus dealt with unbelief.
1. Jesus calls out the unbelief for the man's son, whose demons could not be cast out. Faith makes things impossible things possible. (Matthew 17: 20)
2. Jesus revealing Himself to Thomas who doubted His resurrection. Blessed are those who have not seen and yet believe (John 20:29)
3. Jesus raising Lazarus from the dead was a great impossibility, surrounded by a situation of grief. Jesus said that if we would believe, we would see the glory of God. (John 11:40)
Faith is real and so is unbelief. It robs from faith. God longs to intervene on our behalf but the enemy longs to block it through us and our unbelief.
If we have let impossibilities of our lives become a lifestyle, we have been cheated by the enemy.
Faith doesn't use our intellect, facts or education but our trust in our Lord (Proverbs 3:5-9)
"Where our prayer has failed, faith will surely work. Faith can go where your prayer cannot." – Pastor Rajan
Purpose of this message:
The root of anxiety is unbelief, which then leads to depression. We must become serious with the promises of God and stop living like unbelievers without promises. (Philippians 4: 4-7, Proverbs 12:25)
How do we fight anxiety and unbelief?
We fight with the promises of God in His Word. Get aquatinted with the Word of God, His promises and have a fresh appetite for His Word, having a relationship with the Word. (2 Timothy 2:15)