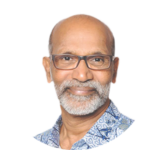 Rev. Benedict Rajan
March 29, 2020
Why are you so fearful? Why is it that you have no faith?
Text:
Mark 4: 35-38
When Jesus is with us, everything is with us. Since it was Jesus idea, the disciples went on a boat across the lake. Jesus was asleep in the stern during a storm that broke out.
The disciples were fearful and afraid and cried out to Jesus, who arose and calmed the storm.
The disciples knew the miracles and power of Jesus but not the person of Jesus.
Purpose:
Why are you so fearful? Why is it that you have no faith?
God wants to bring a fresh perspective of faith. The disciples were so alarmed by the surroundings that they forget Who was in the boat. Could that be us in the midst of this pandemic?
We must not lose sight of Jesus in the middle of this lockdown/partial lockdown.
Three things to keep in mind in this Scripture and even in the midst of teh lockdown amidst of the Covid-19 outbreak.
1. It was Jesus' idea to crossover. Regardless of the situations we face, Jesus has our lives (Philippians 1:6, Hebrews 10:23, Hebrews 13:8, 1 Thessalonians 5:24, Isaiah 54:10, 2 Timothy 1:12)
2. Jesus was asleep in the boat. Jesus in us is greater than He who is in the world. The greatness of Jesus, He shows to us through His unfailing love. He cares for us deeply. (1 John 4:4, 1 John 3:1, 1 John 4:18, Romans 8:28, 31, 35-37)
3. Eventually Jesus calmed the storm. It is Jesus who will eventually bring an end to this pandemic. Do not be shaken by unbelief. #believe We need the person of Jesus (Matthew 17:20)
"Don't be afraid. Jesus is in your boat."
-Rev Benedict Rajan
"He rebuked the storm because He is the God of the impossible."
-Rev Benedict Rajan
The second boat trip was a cross over to Capernaum. Jesus was not in the boat. Another storm broke out. Jesus came to them and the disciples let Jesus into the boat and the storm ceased and they reached the shore (John 6:21)
There is an anointing of acceleration.
We are thankful for medical science but ultimately Jesus broke out in Wuhan. We prophetically believe this will happen around the world, before April ends.
"Faith has the power to go where our intercession cannot go."
-Rev Benedict Rajan