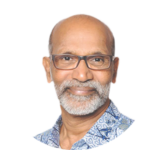 Rev. Benedict Rajan
March 22, 2020
Your Mind Is Renewed When the Impossibilities Around You Becomes Logical
Text:
Lamentations 3: 22, 22-26
2 Corinthians 10: 3-6
In times of hopelessness, we must recall to mind the hope of God.
The fear is so real during this time of Covid-19. But let us wake up in hopefulness.
The change of our mind is what brings the renewing of the mind. The real battle isn't out there but in our minds. The virus is not beyond the power of God.
Purpose:
In the midst of the attack of fear in Malaysia, in the midst of life and death and all these situations around the world, as a man thinks so shall he become (Proverbs 23:7)
You sow a thought, you reap an action. You sow an action, you reap a character.
You sow a character, you reap an eternity.
Nurture your mind with great thoughts, for you will never go any higher than you think. The only good News is the Bible. Our hope is in God. Only hope in Jesus can see us through.
The Four Cornerstones Of Our Thoughts
1. God Is Good All The Time (Exodus 33:19)
* His plans are always good (Jeremiah 29: 11-12, Romans 12:2)
* His purpose for us is always good (Romans 8:28)
* His working in us is towards good things (Philippians 2:13)
* His intentions towards us is good (Psalms 115:12, Psalms 103: 1-3, 6, 12)
2. Nothing is Impossible to Those Who Believe In Jesus
* Our lifestyle should be a pursuit of miracles (Psalm 72:18)
* With God, all things are possible (Mark 10:27
* Faith is a choice to believe (Mark 9:23, John 11:40)
3. We Fight Our Battles From A Place of Victory in Christ
* we fight to reinforce the victory Jesus already won
* we do not fight for victory that Jesus already won (1 John 5:4, 2 Corinthians 5:7)
4. I Am Significant in God
* we are valuable to Christ
* we are created in the image of God (Genesis 1: 26-28)
* we are children of God (1 John 3:1)
* we are special in the sight of God (1 Peter 2:9-10)
God cannot change your mind. Unless your mind is renewed, we cannot see the hope of God.
May you not only be renewed in your mind but may there be hope inside of You today. (Philippians 4:8)